Prague Choral Meetings 2020
Prague Spring Choral Meeting
April 23 -26, 2020, May 7-10, 2020

Prague Summer Choral Meeting
July 9-12, 2020, August 6-9, 2020

Prague Atumn Choral Meeting
November 5-8, 2020
Prague Advent Choral Meeting
November 26 -29, 2020, December 3 -6, 2020
Advent Choral Meeting
28.11.-01.12. 2019
5.-8.12.2019

Participants

Prague Advent Choral Meetings 2018
Prague Advent Choral Meetings 2017
Prague Choral Meetings 2016


Participants

Time Schedule
Prague Advent Choral Meeting 2015

Participants

Time Schedule
Prague Advent Choral Meeting 2014
November 20-23, 2014
November 27-30, 2014
December 4-7, 2014

Participants

Time Schedule

Photo Gallery
Prague Summer Choral Meeting 2014

July 17-20 , 2014

Participants

Time Schedule

Photo Gallery
Prague Advent Choral Meeting 2013
November 21-24, 2013
December 5-8, 2013
December 12-15, 2013

Time Schedule

Participants

Photo Gallery

Program v češtině
November 22-25, 2012
December 6-9, 2012

Time Schedule

Participants

Comments
December 1 - 4, 2011
December 8-11, 2011

Time Schedule

Participants

Comments

Photo Gallery
Advent Choral Meeting

December 2 - 5, 2010
December 9-12, 2010

Time Schedule

Participants

Photo Gallery

Comments
Advent Choral Meeting

December 3 - 6, 2009
December 10-13, 2009

Time Schedule

Participants

Photo Gallery
Advent Choral Meeting
December 4 - 7, 2008

Information

Time Schedule

Participants

Photo Gallery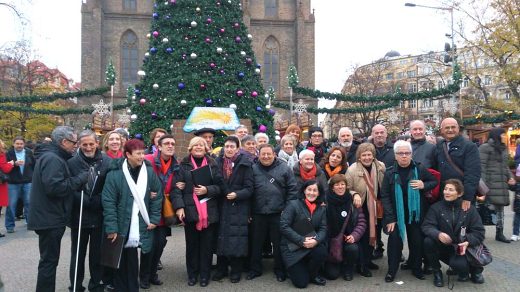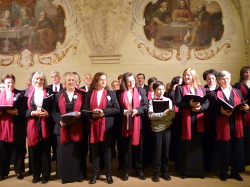 We are happy to invite your choir to the ancient city of Prague in the heart of Europe where the traditional Prague Choral Meetings 2020 will be taking place on the following weekends:
In 2020, the choral meetings will be held:

Prague Spring Choral Meeting
April 23 -26, 2020, May 7-10, 2020

Prague Summer Choral Meeting
July 9-12, 2020, August 6-9, 2020

Prague Atumn Choral Meeting
November 5-8, 2020

Prague Advent Choral Meeting
November 26 -29, 2020, December 3 -6, 2020
Ladies and Gentlemen, Dear Friends of Choral Music,
The choral meetings are open to choral groups with min. 14 singers of all ages and all kinds (mixed, male, women, children, barbershop, gospel, church choir, gregorian music, instrumental vokal ensemble, …) from all over the world – as their name reveals, it is not a stressfull contest but a unique opportunity to meet other choirs from different countries, sing together and make new friends in the magic atmosphere of the beautiful Old Town of Prague. You will also be able to see all historical monuments of our capital – learn about Czech history, traditions as well as contemporary life. Prague is famous for its rich musical traditions and cultural life – it is a city of the musical greats such as Dvorak, Smetana as well as Mozart who loved Prague.
Prague Summer Choral Meeting is the biggest, most popular and best attended choral event in pre-Christmas Prague – in 2018 we welcomed more than 88 choirs from 21 countries.
Most participating choirs come to the festival on Thursday and leave on Sunday, but is is also possible to arrive on Friday. Depending on the lenght of stay and your wish, you would have two or one public perfomance of 30 minutes in churches in the Old Town – all concerts are open to the public and free of charge. As a rule, the concerts are held at the majestic St. Nicolas Church at the Old Town Square (built in the years 1732-1737) and St. Salvator Church (built in the years 1611-1614), but concerts are held also in other churches and concert halls.
On Saturday afternoon all participating choirs gather at a concert hall or church for a friendship concert – highlight of the festival is the common singing of all choirs. In pre-Christmas time, there is a possibility to sing at a Christmas market. Apart from the concert program, you will have time for a walking tour of all main sights of Prague with your festival guide. In the evening you will be able to see our city from a boat on the Vltava River, visit a theatre or opera performance, get familiar with Czech cuisine and Prague ´s nightlife.
The Millennium Agency Prague is exclusive organizer of stays of all participating groups. Our long-year experience and many satisfied and returning choirs guarantee you top service and satisfaction. All costs connected with festival participation are carried by the participants, the organizers reserve the right to arrange the stay in Prague for all participants - the transportation to Prague and back is to be organized directly by the choirs.
The deadline for your application is February 15, 2020 for the Spring Meeting, May 15, 2020 for the Summer Meeting and September 15, 2020 for Autumn/Advent Choral Meeting.
We will be happy to forward you the application form.
If you would like to get references from choirs that participated in previous editions, we will be pleased to provide you their contact information. There are direct flights to Prague - Ryanair, AerLingus, Wizzair, Easyjet .... as well as numerous other connections.
You can look up the past participants on the festival websites
We are looking forward to seeing you in the romantic city of Prague and we hope you will take part in our festival.
Stanislav Terlica
Festival Committee
Contact:
MILLENNIUM Agency
Zahradníckova 20c , 150 00 Praha 5
Te/whatsapp: +420 602686820, +420 607552731
Testimonials from the irish choirs who participated in Festivals
Dear Stanislav,
Now the dust has settled I wanted to write to say how much we enjoyed our trip to Prague. The service you provided was second to none and was one of the most 'luxurious' choir tours I have been on. The hotel was excellent and we were very happy with the performing venues. We particularly enjoyed singing in the magnificent acoustic of St Salvator's church, a special treat as we are normally used to performing in a small church. Stacy was extremely knowledgeable and friendly as a guide and liaison and the boat cruise was a great time for us all to sit together and celebrate the successful tour.
Many thanks again,
Tristan, St. Bartholomews Church Choir, Dublin, Ireland
Dear Stanislav, On behalf of the Monasterevin Gospel Choir I want to thank you and your group for an amazing experience in Prague, we had a wonderful time in your beautiful city and taking part in such fantastic Festival of music. Our guide Stacey was a lovely girl and looked after us so well she was willing to do anything for us and I would like you to express our sincere thanks to her. I left a little gift with her for you. Our hotel was also lovely. Kindest regards. Jacqui